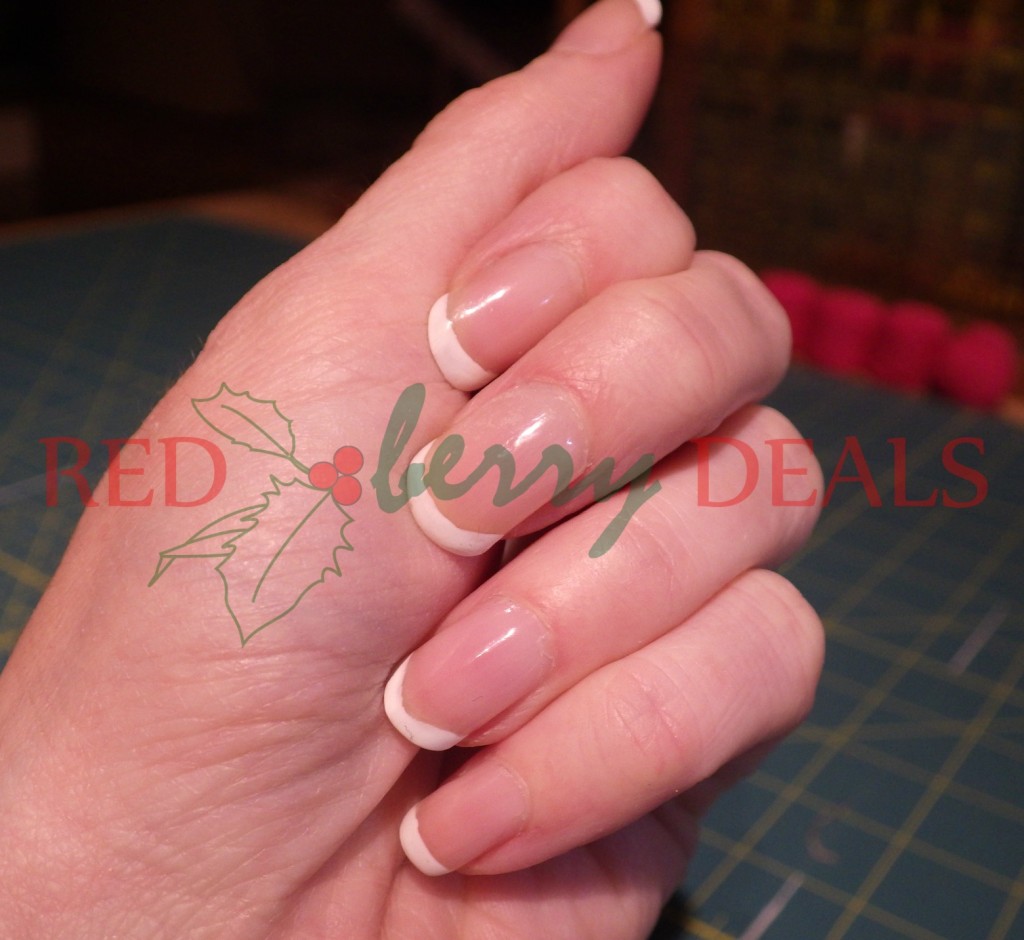 As of 02/2014:
Every since I had my first french manicure I've always loved them.  Thinking back, I've had manicures, acrylic nails, gel nails,  and now shellac or gel polish.  I don't always go for french just because it costs more .  I just purchased the Sensationail french tip addition to my Sensationail at home kit.  It was on sale this past week at CVS buy 1 get one 50%.   I'm so happy I did.
Before I purchase the gel polish, I did some research and read that a lot of reviewers had problems with the  Sensationail French tip stickers they said they were hard to put on, would rip and wouldn't stay.   It looks since then Sensationail has now added a bottle of white gel polish to the kit and suggest in the instructions to put an extra layer of top coat.
I'm so impressed with this kit.  I can understand the difficulty of adding the stickers.  I think with practice I will get them perfect.  I also learned afterwards to do my pinkie nails and work up to my thumbs rather than the other way around.   Pinterest pins and other blogs suggest on how to do the white tip polish instead of the stickers.  Looking forward to try that.  I'm happy.  What do you think?
After about 6 days I started getting some major chips so I decided to take it off.  I used the soak off with a cotton ball and foil and they came off very easily.   I plan on trying it again and see if I can getting it to last the full 2 weeks.   I'm not giving up!
What is gel polish?
Gel polish or soak-off gel polish is carefully applied in layers with a brush and then cured beneath a UV or LED light to dry and harden. It takes 30 to 60 seconds to dry in the LED light.  Gel nail polish lasts two to three weeks without chipping.   After the two or three weeks, the gel polish is soaked off the nails using acetone and gently removed from the bed of the nail.  The nails are not damaged or filed on.   The acetone can be drying and it is suggested to put petroleum jelly on the nail beds before soaking.
Here is a tutorial that I found that I'm going to try:
http://warfieldfamily.com/2013/05/diy-french-tip-gelshellac-nails/
These are my opinions and my personal review.
Update as of 12/13/14:
Since I wrote this post back in February, I was so hesitate to actually post it.    I didn't have great success that time and I wasn't sure if I was doing it right.  It would take me a while to do them.  Then the time to soak them off.  At one point, it took an hour or more to soak off and I was too tired to try again.    So I took a break a long break.   This Fall that I started getting interested in gel nails again, while over the summer I used regular polish.
I ordered the Gelish Foundation and Gelish Topcoat.  I also purchased the ASP version of top and foundation.   So far I have used Gelish and I'm in LOVE!  This stuff works great.   I don't even remember trying the ASP and will at some point again but it is so hard to change something when the good is sooo good.  I can go for 3 weeks without chips!     My nails are growing out but the look so good.
I love the DIY guide above on French tips using the Gelish Foundation.  Then I started really researching Gelish and found a favorite blog.
http://www.chickettes.com/how-to-remove-gelish-polish/
I love Chickettes.  This blog is great she goes over all of the colors and how tos.    I'm so impressed!
Then the next phase!
I learned to just do clear gel polish and then use regular polish on top!  What a great idea!  Then if you want to change your color you can easily with non-acetone!   That explains why their polish looks amazing on Pinterest!
http://www.chickettes.com/gelish-french-manicure/
For my nails that break more often then others, thanks to Chickettes I've learned about "Acrygel".  I did it so far on 2 of my nails to test it out and so far I'm impressed with how hard my nails are and how easy it was to apply and set.   I did a full manicure in my kitchen while taking care of my kids.    It hasn't been a week but I've been doing a lot at my house since my little ones are sick this weekend.
http://www.chickettes.com/using-acrygel-for-added-strength-nail-repairs/
Have a great holiday season!
Holly 
Thank you for supporting Redberrydeals.  Some links are affiliate links.  These are all my opinions and personal products.